As pharmaceutical, personal health care, specialty chemical and cosmetic companies strive to screen materials for beneficial biological effect which can be marketable, the use of DNA microarrays has been an invaluable asset to this process. We have been running DNA microarrays for over 13 years for one simple reason, they provide vast amounts of information. The power of the DNA microarray is that a single array experiment can provide data on how your material impacts the expression of nearly 20,000 human genes.

​The DNA microarray procedure works with both cultured cells and 3D tissue models. A general over view of the DNA microarray procedure is provided in the animation below, with a link to a more detailed paper and gene listing below that.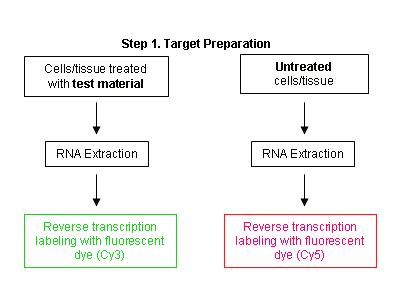 BioInnovation DNA Microarray Article (PDF Document)
​Please
contact
us for specific pricing and study timing for DNA microarray studies.