Proteostasis is a novel term used to represent the concept of protein homeostasis, which involves the interrelationship between cellular protein synthesis, maintaining functional cellular proteins, and the removal of proteins which either have become damaged and nonfunctional or undamaged proteins that are no longer needed by the cell. The study of proteostasis has taken on new interest recently as current research has indicated that not only are certain disease states mediated by alterations in protein synthesis or expression, but also by a decline in the cell's ability to repair damaged proteins and to clear damaged proteins from the intracellular space resulting in the accumulation of dangerous protein aggregates. These intracellular protein aggregates not only play a key pathological role in severe diseases like Alzheimer's, ALS, and Parkinson's, but can also significantly contribute to the decline in cellular function associated with aging, exposure to UV light or other environmental stresses, and are further complicated by the formation of advanced glycation end products. ​​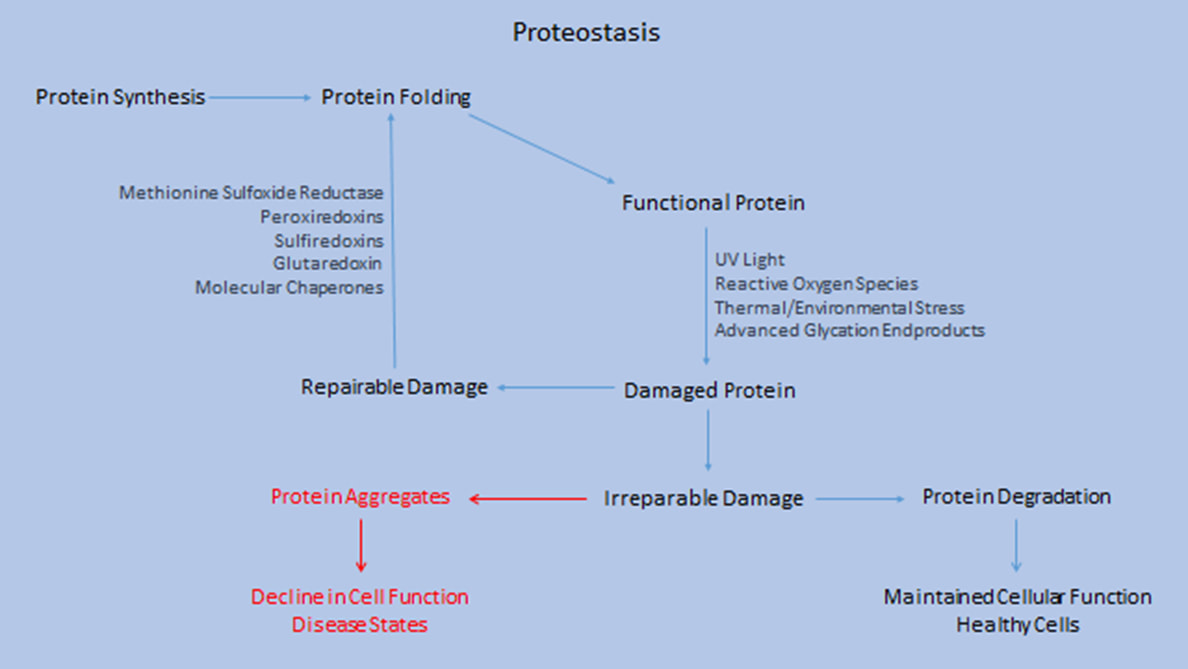 The ability of a cell to perform its intended task intimately depends on maintaining a pool of functional proteins. Since the proteins are the machinery by which cells perform their specific functions, it is essential to maintain proteostasis by ensuring that the complimentary processes of protein synthesis and protein degradation are occurring and are unhindered by environmental factors such as ROS, UV light, thermal stress or by normal biologic factors such as aging. To often, the balance of protestasis can become compromised, leading to the accumulation of dysfunctional proteins within the cell. To add insult to injury, as dysfunctional proteins accumulate and form larger and larger aggregates the larger aggregates themselves become increasingly resistant to proteolytic degradation. This further limits their removal and thus materials which can stimulate protein degradation can have enormous health benefits.

Several natural products have been observed to have a beneficial impact on specific parts of the process of protein metabolism and have been shown to restore proteostasis to normal after an environmental or aging related insult. Examples like oleuropein and betulinic acid have both been shown to activate the 20S proteasome and promote protein degradation, while other materials (both natural and man-made) have been shown to have an impact on other pathways of protein degradation such as protein ubiquitination and autophagy.

​The importance of maintaining pathways of protein degradation can be further illustrated by the anti-aging effect observed with caloric restriction or fasting in humans. The mechanistic basis for the anti-aging effect is to promote protein degradation in a manner that can boost the removal of damaged proteins and protein aggregates through both proteasomal and lysosomal pathways and thus extend the lifespan of the individual by preventing the problems associated with an accumulation of intracellular protein aggregates.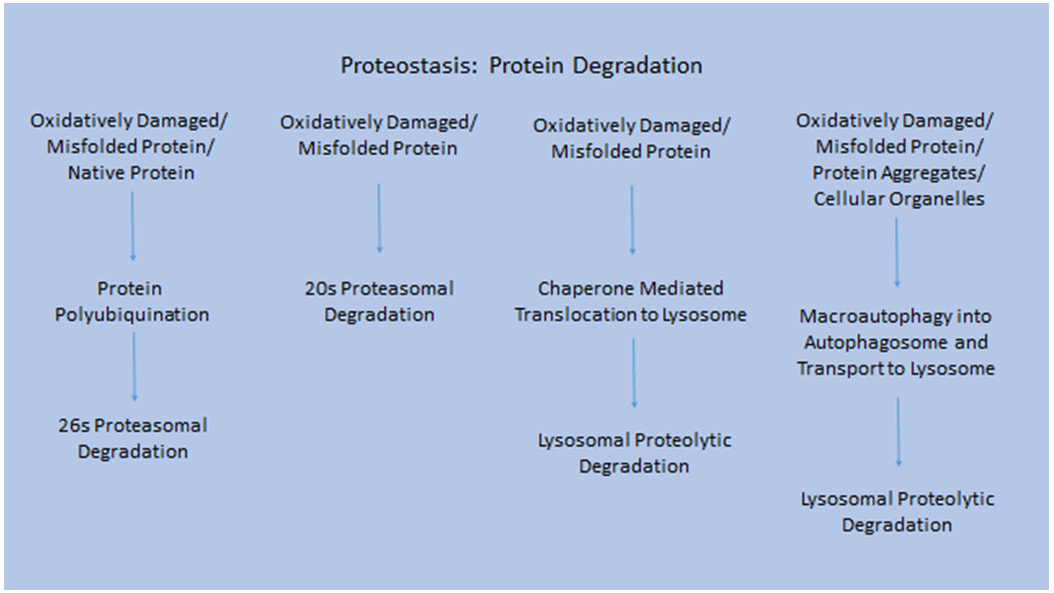 As research progresses into the field of proteostasis more and more substances are being identified which have an impact in this important process. Our lab can help you to identify substances which may have an effect in this essential pathway. We offer a broad range of custom assays which can be designed to look at various components such as:

Protein Expression

Protein Synthesis

Protein Damage (ROS modification, AGE Modification, AOPP Modification)

Protein Ubiquitination

Proteasome Content/Activity Assay

Autophagy Assay
​Please note that only the typical targets are listed. If there are other proteostasis markers that your company has an interest in please let us know and we can accommodate you. ​Please
contact
us for specific pricing and study timing.